1.0 INTRODUCTION
A domestic water system describes the indoor and outdoor potable water distribution system. It includes the connection to the water supply, whether it is an underground central city, county, state or federal distribution system or a private well. The domestic water system includes above-ground and below-ground piping, valves, fittings, ancillary equipment and the various plumbing fixtures that use the potable water.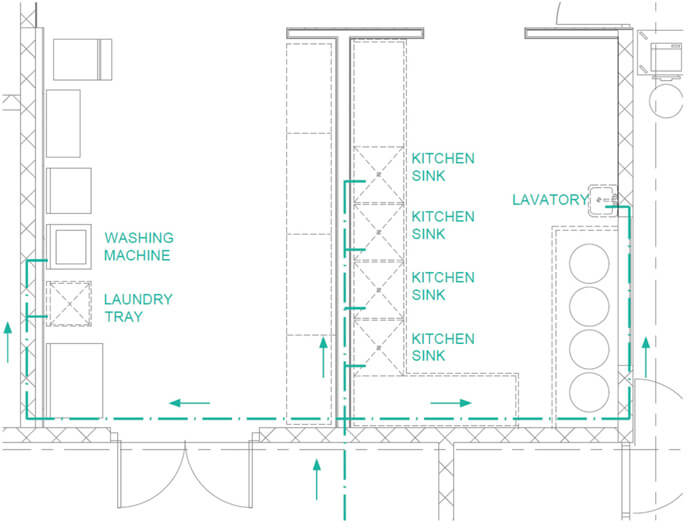 Figure 1: This figure shows an example of a domestic water distribution system (only cold water) for a commercial kitchen. This figure will be used to exemplify how a domestic water system is sized.
1.1 UNITS
The primary units that are used in this calculator and guide are the United States Customary System Units (USCS). However, there will be another version provided in International System of Units (SI). This version is not guaranteed and is not included with the purchase of this product.
2.0 DISCLAIMER
In no event will Engineering Pro Guides be liable for any incidental, indirect, consequential, punitive or special damages of any kind, or any other damages whatsoever, including, without limitation, those resulting from loss of profit, loss of contracts, loss of reputation, goodwill, data, information, income, anticipated savings or business relationships, whether or not Engineering Pro Guides has been advised of the possibility of such damage, arising out of or in connection with the use of this document/software or any referenced documents and/or websites.
This design guide book and calculator was created for the design of primarily commercial and residential domestic water systems. Although these products can be used for industrial type systems, the intricacies of industrial type plumbing fixtures make it very difficult and it is not recommended that you use this calculator industrial purposes.
3.0 PLUMBING CODES
The design of a plumbing system is greatly influenced by your applicable codes. The most common plumbing codes are the (1) International Plumbing Code or IPC, (2) Uniform Plumbing Code or UPC and (3) Unified Facilities Criteria Plumbing Systems or UFC 3-420-01 Plumbing Systems. Each plumbing design will follow under a certain jurisdiction, which is the governing power that makes the legal determinations and interpretations of the code. For example, a job may be on a federal base, which means the federal government has jurisdiction. This jurisdiction then determines that all plumbing designs must follow UFC 3-420-01 Plumbing Systems. If you do a job for a state government property, then that state has jurisdiction and you need to check with the jurisdiction for the applicable code. There are many different jurisdictions like federal, state, city and county. Each of these jurisdictions will tell you which code to follow, whether it is IPC, UPC or UFC and each of the jurisdictions may have adapted the code to fit their specific location's needs.
This design guide will focus on the two most applicable codes, UPC and IPC. Just be sure to search through your jurisdiction for any adaptations.
3.1 APPLICABLE SYSTEMS
Plumbing systems include domestic water (cold and hot), sanitary sewer and vent, storm drain, special waste like grease and special systems (oxygen, fuel-gas, vacuum, nitrogen).
This design guide focuses on domestic water systems, primarily cold water. Hot water is not including in this design guide. This design guide focuses on the domestic water piping, plumbing fixtures, valves, booster pumps and other miscellaneous design issues related to the design of domestic cold water systems.
3.2 Water Supply Fixture Units
Prior to sizing a domestic water system and determining pipe sizes it is important to understand the concept of fixture units. Water Supply Fixture Units (WSFU) is the standard method for estimating the water demand for a building. This system assigns an arbitrary value called a WSFU to each fixture in a building, based on the amount of water required and the frequency of use.
For example, a water closet (tank) is assigned a WSFU of 2.2 fixture units (FU) while a sink (lavatory) is assigned 0.7 FU. These values are based on the International Plumbing Code Water Supply Fixture Unit table. The difference in fixture units is due to the fact that a toilet requires more water than a sink. The frequency of use between a private sink and a water closet would be the same, since a person will normally use the water closet and the sink within the same bathroom visit. A public water closet has a WSFU value of 5.0. Even though the water closet (tank) is the same as the private water closet and uses the same amount of water, a public water closet has a higher WSFU value. The public water closet has a higher usage frequency, which increases the WSFU value.
IPC: The international plumbing code or IPC uses the following water supply fixture unit table.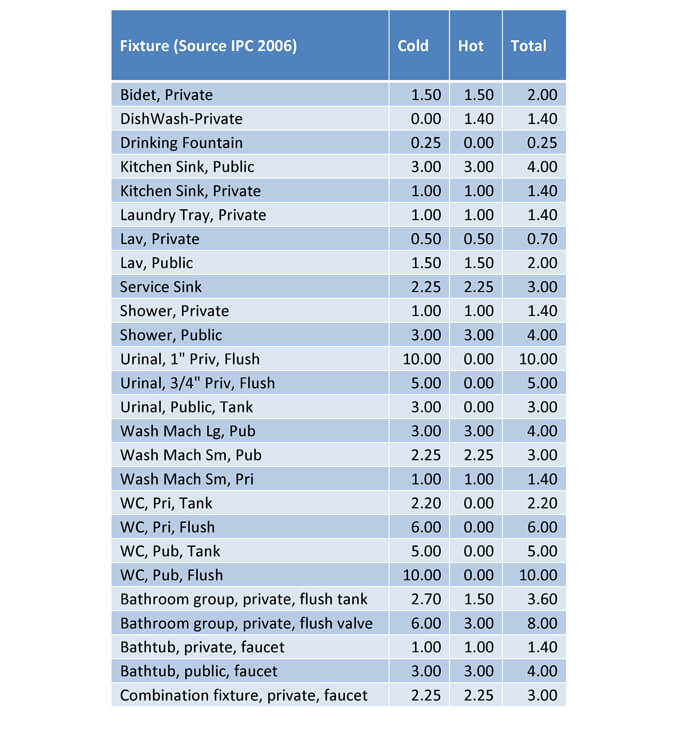 The water supply fixture units are distinguished between cold, hot or both. If a plumbing line serves only the cold water side of a fixture, then the corresponding value should be used. For example, a main line may serve the both cold and hot water, but then a branch line may go to the hot water heater. The branch line would only use the hot water value.
If a plumbing fixture is not available in the table below, then a fixture unit value can be assigned by the designer or engineer. Typically, a similar plumbing fixture that has a similar maximum flow rate and frequency of use will be selected. If the plumbing fixture will be on for long periods of time, then the volumetric flow rate can be inserted into the domestic water piping calculator.